Golden Gate Bridge
San Francisco, California.
#photography #california #goldengatebridge #goldengate #bridge #sanfransisco #symmetry #birds #perfectflight #fog #dusk #sunset #travelphotography #travel #thirdiphoto
The sun breaks through the trees as the hot air balloon Wayward Wind glides over Arrowhead Country Club during the kickoff Balloon Classic Invitational Friday morning.
Bubba Berry Jr from San Antonio, Tx. rides Caesar during the Bareback and Saddle Bronc Riding competition Saturday during the Cricket Valley Pro Rodeo. The rodeo continues through today at 7 p.m.
All three planes from the AeroShell Aerobatic Team perform aerobatic maneuvers high above Cleveland Friday. These World War II planes, At-6 Texan, were once used to train pilots in flying school.
The AeroShell Aerobatic Team prepare to fly by Burke Lakefront Airport for one last maneuver before landing Friday near downtown Cleveland. These World War II planes, At-6 Texan, were once used to train pilots in flying school.
LeBron James, 2001, Before he was dubbed "King James"
Comedian and television star Bill Cosby entertains a packed Civic Center Thursday night during "An Evening with Bill Cosby" celebrating 30 years of Pathway Caring for Children.
Comedian and television star Bill Cosby entertains a packed Civic Center Thursday night during "An Evening with Bill Cosby" celebrating 30 years of Pathway Caring for Children.
A balloon flies past the setting sun Saturday evening as it launches from the 2004 Pro Football Hall of Fame Festival Balloon Classic Invitational/Jackson-Belden Food Fest and Fireworks.
The shadow of the 84 Lumber hot air balloon falls on a hay field in Plain Township as it comes in for a landing. The pilot, Bob Redinger, has been flying balloons since 1986.
Balloons fill the evening sky as they fly over the 2004 Pro Football Hall of Fame Festival Balloon Classic Invitational/Jackson-Belden Food Fest and Fireworks.
Adam Sokol, 11, of Lousiville holds the ropes for the Spectrum balloon as it fills up with air Friday at Kent State University Stark Campus for the Balloon Classic Invitational during the Professional Football Hall of Fame Festival.
A semi trailer lays on its side Monday morning in the north bound lanes of I-77 after losing control of its load near the 4th Street over.
First lady Laura Bush speaks at the opening of the National First Ladies' Library Education and Research Center Thursday. The Center is a collection of artifacts and writings from 43 former first ladies
Dr. Laura McIntyre, left, reacts after learning her daughter, Macy Gray, right, planned a surprise birthday party for her Saturday night at the Canton Negro Oldtimers Association. Gray also surprised her mom with a birthday song sung by Dionne Warrick. More than 150 guests attended the surprise party.
Cheyenne Dickson, 4, left, Elizabeth Dickson, 6, and Sabrina Betz, 3, of the Alliance City Strutters patiently wait to strut their talents Tuesday during the Greater Alliance Carnation Festival.
Tahmel Hines, 5, was one of the youngest to run the 5K for children Saturday. The event raises funds for the Margaret Shipley Children's Clinic. Sidebar: Hines is Macy Gray's son, not sure how you would put that in.
Natalie Bourlas, left, Ellie Saltsman and Elaina McCarty keep busy as they wait their turn during class at the Canton Ballet.
Lauren Kohler giggles as she tries to maintain her balance.
Flying like butterflies the class pretends the hula-hoop is a puddle to practice their jumping skills.
"Broken" from left, Zak Reynolds, Justin Givens, Matt Hewitt and David Anthony
Nimishillen, Washington, Marboro and Plain Township fire departments battle a blaze that destroyed a barn on Paris Avenue in Nimishillen Township Monday afternoon.
The sun sets as Pat Miller, left, and Tony Zito of New Philidelphia wait for the start of Friday nights' game at Central Catholic High School against Dover.
Canton South's Mike Parnell (12) flinches out of the way of the ball as it reaches inside plate during the third inning of Division II district semifinals against Louisville.
Snowboard instructor Sharen Bakke, left, shows how to maintain control as she spins around.
Short North is an artist's haven, mural's, shops and cafe's line the street.
Chris Hahn of Minerva celebrates with his dad and coach, John Hahn, after winning Division II State Champion in his weight class of 160 pounds during OHSAA State Wrestling Tournament at the Schottenstein Center in Columbus Saturday.
Team "Just Don" smiles as they race to the finish line during the 4th annual danvenport derby at Malone College Wednesday evening.
Lake's Hallie Pettigrew (1) slides safely into homeplate passed the hands of Glenoak catcher Deanna McCauley (13) during the 4th inning of District I semifinals at Genshaft Park Monday.
The afternoon sun shines down on fair riders Sunday during the Stark County Fair.
State Highway Patrol officers examine a Pontiac Sunfire involved in a collision with a grain truck on State Route 93, just south of the Route 21 off ramp. the driver of the car died at the scene and the truck driver was taken to Massillon Community Hospital.
ARYAN RALLY
Protesters and Aryan Nation members confront each other Saturday, July 3 at City Park in downtown Coeur d'Alene, Idaho. The Aryans are working with the American Civil Liberties Union to obtain a permit to march in downtown on the 10th. (AP Photo/Coeur d'Alene Press, Joy Newcomb)
ARYAN RALLY
An Aryan Nations member watches the crowd of protesters closely during a rally in downtown Coeur d'Alene Saturday, July 3. The Aryans are working with the American Civil Liberties Union to obtain a permit to march in downtown on the 10th. (AP Photo/Coeur d'Alene Press, Joy Newcomb)
Horses and hounds from Fox Hunt Club walk Main St in North Canton Saturday for the 2003 Olde Fashioned Holiday Festival.
Canton Township firefighters fight a blaze in a empty house across from Aultman Hospital. The flames jump across the ally and caused damage to the next house.
The finale of the downtown fireworks launches behind a flag during the 2003 Pro Football Hall of Fame Festival Sunday night.
The four engine Aluminum Overcast, a World War II-era B-17 bomber flies over the suburban landscape of Stark and Summit counties. The 65,500-pound, Flying Fortress was manufactured for World War II, but never saw action.
The Aluminum Outcast, a B17 aircraft was never used during World War II.
Angela Kovaca, left, and her daughter Morgan, 7, talk with neighbor Christie Proehl and her dog, Ginger, Monday afternoon. Waters from two rivers flooded streets, backyards and homes throughout the northwest area of Stark.
Katie Henderson reacts as her son, Blake Symanski, is given his vaccinations by Dr. E.S. Chong at the Canton City Heatlh Department Thursday.
Coeur d'Alene Press Photo / Tim Hunt of Hayden and Walt Maurice of Coeur d'Alene enjoy the day fishing on Lake Coeur d'Alene Wednesday.
Mount Union's Rick Ciccone (34) tries to fight off Balwin Wallaces' Matt Walker (19) and Jeff Fox (16) during the fourth quarter of Saturday's game in Alliance.
Members of the Brewster Fire department lead the funeral procession to Stanwood Cemetery Tuesday afternoon for Dixie Kahrig and six of her children.
The caskets of the Kahrig family remain at Stanwood Cemetery following the funeral for Dixie and six of her children Tuesday afternoon.
Nic Albaugh of Minerva School tries to get control over North Canton's Jason Dellapina during the match at the Topgun tournaments at Alliance High School Friday.
ABC cameraman Bob Schmitt gets up close and personal with Gentle Ben during a day in the life taping of the Saint Bernard. A crew spent the afternoon with Ben and his owner Shirley Wolf. The show will air on ABC, Feburary 20.
Shirley Wolf, owner and handler of Ben gives hima bath while ABC crews film the action for an upcoming show to air Feburary 20, a day before the Westminster dog show in New York.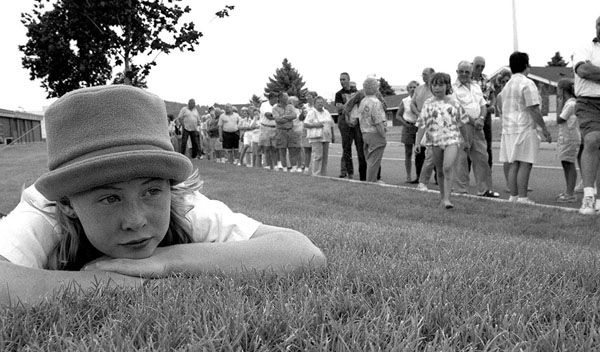 Bob Rosedale of Goodyear installs one fo the 3,780 LED boards that create the eagle eye vision aireal sign on the Spirit of America blimp in one of the hangers Friday in Akron.
Ryan Reed, left, and Jeff Rohr perform the song "Guys and Dolls" during dress rehersal at Tuslaw High School. The play is March 20, 21 and 22 at 7:30pm.
Fire departments near Minerva helped battle a blaze that burnt down a city block early Saturday morning, including two tower trucks. The estimated damage is close to 2 million dollars.
Second-graders Tara Sutton, 7, left, laughs at her friend Samantha Peterson, 7, as she flies into the air while they play on the swingset during recess Wednesday at Whipple School.
More than 30 Harley Davidson's ride along Strausser Rd. Saturday during a pre-run for next week's annual Muscular Dystrophy Association ride on August 20th. The ride will begin at Freedom Harley Davidson and end at the Stark County Fairgrounds.
The American flag hangs behind the Jim Thorpe statue at the Pro Football Hall of Fame.
David Draime, left, Dave Stump and Bryan Stuck look like dinner to the inflatable Obie Friday night before the start of Friday nights game at Paul Brown Stadium.
Former Philadelphia Eagles linebacker and offensive lineman Chuck Bednarik signs autographs outside the McKinley Grand Friday.
Jim Kelly, former Quarterback for the Buffalo Bills cheers after receiving his coat during the Pro Football Hall of Fame Mayor's Breakfast at the Civic Center in Canton.
Enshrinees and past Hall of Famers pose for a photo outside the Football Hall of Fame Friday during the Pro Football Hall of Fame Festival.
Cheri Rice flips slabs of ribs at the Desperado vendor at the Hall of Fame Ribs Burnoff Thursday.
Kelsey Cole, 2, watches her mom and dad, Bryan and Cindy Cole hug during a Welcome Home reception at New Towne Mall in New Philadelphia for the National Guard's 1485th Transportion Company.
Television star Tony Danza performs Saturday night in front of a crowd at the Italian American Festival at the Stark County Fairgrounds.
Lead singer, Darius Rucker, of Hootie and the Blowfish performs for a packed crowd at the Football Hall of Fame Ribs Burnoff Thursday.
Matt Bell watches Petey while he licks his fingers as he eats ribs at the Bennigan's stand during the Pro Football Hall of Fame Ribs Burnoff Wednesday.
Todd Wagner directs Clydesdales Nellie and Cheyenne through the path at the Hoover Historical Center while parents and kids sing Chirstmas songs in the wagon.
Firefighters from Waynesburg, Malvern, Sandy Township, Magnolia, Minerva, Canton Township. East Sparta and other departments battle an hours-long blaze to save four buildings in downtown Waynesburg Thursday morning. No serious injuries were reported but at least two familes were displaced by the fire, the origin of which is still under investigation.
Buried in the coats Hector Cuellar, left, Christian Carbajal, Wes Green and Devin Caldwell read books in Diane Rooks second-grade class at Genoa Elementary Tuesday afternoon.
Chuck Loan of James Risk Eaton House Moving amd Raising directs Jimmy Risk as he drives a house across a field Wednesday.
Ian Anderson of Jethro Tull performs at the Palace Theatre Wednesday night during his "Rubbing Elbows" tour. Local artist Eric Brooke performed with him later that night.
Ice from the storm Wednesday night still cling to a fence as two horses enjoy lunch at their home in Jackson Township.
Sam Jocas, 5, his brother, Joey, 3, and sister Gabriela, 7, hold a flag to honor fallen solider Pfc. Jesse Buryj as they stand along Woodland Ave. Saturday waiting for the funeral procession to pass by on the way to St. Peter Cemetary. Their mom, Michelle and younger brother, Dominic, 1, stand behind them. " I wanted them to see a real hero," she said.
A home in Clinton is completely surrounded by the waters of the Ohio Erie Canal Monday afternoon. The waters are receeding slowly after the rains wiped out many streets in the area.
Umpire John Hursback, left and pitcher David Wells argue over a call.
Training allows the firefighters to start and stop fires throughout the home, completing the day by burning the entire home.
Michael Odum, 8, of Akron snaps the football during the Long Snap challenge Satruday during the NFL Experience at Don Scott Field.
Ricky Strednicky, 15, catches the football during the "Down and Out" course at the NFL Experience Thursday at the Ribs Burnoff.
Ohio State's Kenny Peterson holds head during the first round draft picks Saturday for the NFL. Peterson was picked in the third round by the Green Bay Packers.
Ryan Mellion, 12, tries with all his strength to bring the ball down to the end in "The Drive" game at the NFL experience Friday at Don Scott Field during the Pro Football Hall of Fame Festival.
Bill Natale from E. Sparta ties the legs of a steer after wrestling him the the ground during the Steer Wrestling competition Saturday at the Cricket Valley Pro Rodeo.
Dawson Dumitrescu, 2, holds on for dear life to his mom, Valerie, as they visit Santa Claus at the Hoover Historical Center's Annual Christmas open house.
Joel Newcomb walks along the mural of photos, momentos and flowers placed along the church near Ground Zero.
A building size mural faces Ground Zero on it is enscribed "The human spirit is not measured by the size of the act, but by the size of the heart."
Birds perch on the cross that was found during the clean up of the World Trade Centers.
Flowers lie on a one of the 2,819 chairs in Bryant Park that honor those that lost their lives in the World Trade Center on September 11, 2001
#6 A bird perches itself on the street sign near the New York Stock Exchange.
A flag placed on a train becomes a blur of color as it enters the subway station.
Molly Gerber, 17, is proud and happy to have Dude, a 25-year-old Quarter horse for her competitions. The two will be traveling to Columbus for the State 4-H Competition at the end of the month.
Kevin Casey as the Scarecrow and Dorothy played by Grace Margan Gillihan will be performing in the upcoming production of The Wizard of Oz.
Coeur d'Alene Press Photo / Alex Booth, 7, and mother Kelly wait in a blanket Friday afternoon before jumping in the lake for the 1999 Polar Bear Plunge at Sanders Beach. It was the first time for Alex. "I told him it's an experience he'll never forget," said Kelly. 2. People from around the Coeur d'Alene area charge the beach after taking a dip in Lake Coeur d'Alene.
Jackson Pool, a community pool in the city that has been around for more than 60 years. The building and pool area, bacause of age is slowly falling apart and requires repairs before each swimming season.
Empero Corral, 6, warms up as the drums play at the Second annual Powwow at North Idaho College Friday afternoon.
Coeur d'Alene Press Photo / Clayton Broncheau, 8, performs during the traditional dance as the drums play at the Second annual Powwow at North Idaho College Friday afternoon. Classical Christian Academy students are studying Indians of the Northwest and attended the powwow as a history lesson and field trip.
Lilac Impatiens are reflected in rain drops that fell in front of Holleydale Farms on Dressler Avenue Monday afternoon. The National Weather Service is calling for scattered thunderstorms with a high of 56 degrees.
RIOT
Officers from Kootenai County Sheriff's department, Idaho State Police, Coeur d'Alene and Post Falls police departments wear riot gear Friday, June 18 to control rioters at the intersection of Fourth Street and Sherman Avenue after the Car d'Lane festivities ended for the evening in downtown Coeur d'Alene Idaho. (AP Photo/Coeur d'Alene Press, Joy Newcomb)
Police officers from Ohio salute fallen Massillon officer Eric Taylor as he is brought to Mount Peace Cemetary Friday during his funeral. Taylor died in the line of duty August 9th in Massillon.
The Canton Madddog rugby team tries to maintain control of the ball Saturday during their match against Steel Valley from Youngstown.
Santa smiles for the camera as 13-month-old twins Haley, left, and Hannah check out the man in the red suit during their visit to Belden Village Mall Tuesday.
Santa Clause brings up the rear of the 46th Annual Holiday Parade in Massillon.
Eighth-grader David Lee from Hillard Middle School bows his head as Christine Wingate from Sandy Valley Middle school spells her final word "Tungsten". Wingate misspelled the word and Lee will move on to the National Spelling Bee in Washington DC.
Andrew Schaub, 9, screams as he tilts upside down in a swing Tuesday at Price Park as he spends the day with his mom, Bonnie, and two sisters Megan, 12, and Becca, 3, during their first day of Spring Break.
Jerry Springer reacts to a comment from MSNBC's Chris Matthews during a live taping of Hardball at Amvet Post 6 in Massillon Friday night.
Forms of stell called Ingots are heated to 2500 degrees and ten lifted out and dipped in a vat of water.
A basin of steel moves across a track at Timken Co.
The concert in the park fireworks fill the sky over the American Flag hanging at Monument Park Wednesday night.
Richard Sutton finds a comfortable seat as he watches his friend Ed Thomas jog a yearling, Paradotta, around the track Thursday at the Stark County Fairgrounds. Thomas has a stable at the track where he houses the horses he trains for races at Northfield Park.
Dr. Roger Palutsis performs knee arthroscopy surgery using a voice command computer, called Hermie at Alliance Community Hospital.
McKinley's Amy Wirtz comes up for air during heat 3 of the girls 200 yard IM Saturday during the Northeast Aquatic Conference Championship at CT Branin Natatorium.
Fire departments near Minerva helped battle a blaze that burnt down a city block early Saturday morning, including two tower trucks. The estimated damage is close to 2 million dollars.
The Mist of Avalon frames the downtown skyline Wednesday during the Cleveland Harborfest before the Parade of Sails begin.
The Concordia, left, and Niagara meet off the shores of Lake Erie Wednesday during the Cleveland Harborfest before the Parade of Sails begin.
The Norfolk Rebel soaks up the sunshine while docked in Cleveland Wednesday for the cleveland HarborFest
The Niagara fires its cannons off the shores of Lake Erie Wednesday during the Cleveland Harborfest as it sails inside the break wall.
Crash test dummies, Vince, left, and Larry test drink cold Hi-C's Sunday during the Kids Safety Fair at Mercy Medical Center. Vince and Larry known to their friends and Matt Schofield and Greg Neff volunteered to help during the fair which provided parents with a free car seat safety check, photo ID's and the latest on how to keep kids safe.
Four-year-old Buzzy Faheem takes a break during the song "Jesus Loves Me" Saturday during a Habitat for Humanity block party in Canton. The party brought neighbors together so they could get to know one another better.
Canton native Joel Newcomb, left, runs with the Olympic Torch along the Veterans Memorial Bridge with support runner Beverly Rose of Canton in Cleveland Wednesday morning. The torch will travel to Akron and Cloumbus today.
Dan Bailey, athlete of the week
Salem senior Jason Greenamyer leaps to the air during the boy 110 meter hurdles finals Friday at Revenna Stadium for the OHSAA Div II Regional Track and Field Championships. Greenamyer placed third and will advance to State.
Ohio Highway Patrol officer, Rayetta Calhoun watches the intersection of Whipple and 20th Street in Canton on Monday. The State Patrol will be in full force trying to keep the roads safe during the year's busiest travel weekend.
Smoke from a field burning fills the air above Plummer. This week's burnings have blanketed the southern end of Lake Coeur d'Alene.
Jo Ellen Reikowski walks her horse, Paco, through tunnel on the Ohio &Erie Towpath Monday afternoon. The tunnel was built under the Wheeling and Lake Erie Railway Co. Line.
Paul "goose" Gosiewski and AJ Moriarty laugh as they get the turkey ready for cooking Thursday.
Reflected in the TV, Sally Graven listens as President George Bush speaks during State of the Union address Tuesday night. Sally and her husband John, watched the coverage, listening for news of war. Their son, Mike is in the Navy currently overseas.
Malone's Allen Foster (top) and Leif Erickson take down Campbellville's Hairl Morris near the end zone during the first quarter Saturday.
Dalton Bixler of Breitenbach Wine Cellars sits on barrels used for Port and Sherry wines.
Stable manager Mandy Cavalier cleans out the stalls Friday at Hunting Valley Quarter Horses on Market Avenue in Plain Township Friday. Cavalier has been managing the barn since October providing riding lessons and boarding 10 horses.
Jackson's catcherJamie Snee tries to tag out Lake's Deanna Brown as she slides into homeplate Thursday.
The Call
A day before surgery, a call is received providing surgery time, when to show up, stop eating etc.
I woke with a cooling machine and calf pumps on my legs. This machine, The Breg, polar care cube, kept running pumping cold water through the wrap. It's attached to what looks to be a beer cooler. You add water and ice and this will stay cold for 12 hours. It was amazing and was one of the tools I was ab le to bring home to use for recovery.
It's not always pretty, the pain can be very intense and can be seen in the puffiness of my eyes from crying. I took this selfie more for showing the honesty the best I could. (I also realized that after taking this photo, my glasses were crooked and spent the next 30 mins trying to fix them)
The Reveal
I couldn't watch. I couldn't even look at it and kept my eyes closed through most of this process. Kara, as seen in this photo, did as I had asked and photographed these moments for me.
Lucky 47
I looked up once, just to see it. I almost passed out. Thankfully Kara, doesn't have my weak ass stomach and could handle taking the photos.
The comfort of a cat and a rental recliner ~ PRICELESS
X-rays fascinate me, to be able to see the change astounds me! The four images show the difference between the before and after.
A much needed visit from the pups
The staples were removed today. My knee still aches. They don't numb you, they just pinch them out. It feels like a tattoo needle and piercing gun all at the same time. (but 10x stronger).
October 17th, post-op day 20.
During my daily strolls, I would walk around my complex. A few days later I stopped using the walker and began with the cane.
gregory being gregory as I walk around the complex, recording the footage on my gopro.
<3
Warm wishes from my nephews and fam. <3
Hard Day
Some days are hard. You become tired of the pain, it mentally wears you down. Having the support of my friends and family kept me moving and made me push through the pain.
Almost 107k steps!
So far this month I have doubled my steps. Each day, I try and push myself. Each day is getting easier.
Pre-Palsy
Seven days before it began and decked out for a Halloween Party.
Pre-Palsy
My friend and neighbor Tamara and I get ready to head out to a Halloween party in Burbank, October 27th. A week before the paralysis.
Buger with a side of fries
The Complete Look
If you know me, you know I do not dress up my dogs. My friends however, each year plan their entire costumes around my pups. this year with the addition of Sawyer (aka Burger), they created a very cute group!
#burgerandthefriend
The stalker…
I always have to be aware of where Ms Cali is…she loves to pop me when she wants attention.
Poor pup...
sometimes the cone of shame is required for a dog that has ALOT of allergies.
Day 10
One day before meeting ENT specialist
I hidz
he's so black…his face just melts into his fur.
#burgerandthefriend
Charlie is REALLY good at giving the "LOOK"
#burgerandthefriend
My New Regiment
Just adding a few more pills to the ones I'm already taking for my knee replacement.
mornings...
Not a Cat
A visit from a neighbors dog, Iggy while I cleaned the apartment.
Cryo Facial -- eh... it's COLD!!!
Trying something new, and wanted to see if this helped. It was a very weird sensation. The side with the Palsy didn't flinch or react as the other side did. Once I was used to the cold, I was finally able to relax. also performed a 10 minute session on my knee. Still unsure if it helped, but it did feel good when done.
Laughter IS the best medicine
Laughing at yourself is sometimes the best thing you can do.
Lifestyle Change
Sometimes life forces you to reevaluate what you put in your body. Diagnosed with #ramsayhunt yesterday. #lifechanges 💯

Today I continue to make a change. Healthier options, creating foods that I enjoy but help me.
——-
I've began making this change before the knee replacement surgery but recovering mostly alone and needing to create meals.. i.e eat! 🍳🧀🍔. I went for easier options that didn't require me to stand by the stove.
Los Angeles Zoo, Annual Zoo Lights
LA Zoo Lights
Attempting to help me not fold my laundry.
Perfect Gift
If you know my brother, you will understand why this shirt rocks. I can't take a photo (typically) without this salute!
The little house on Wenger Rd.
The youngest discovered snapchat. It is the ONLY way he will look at a camera!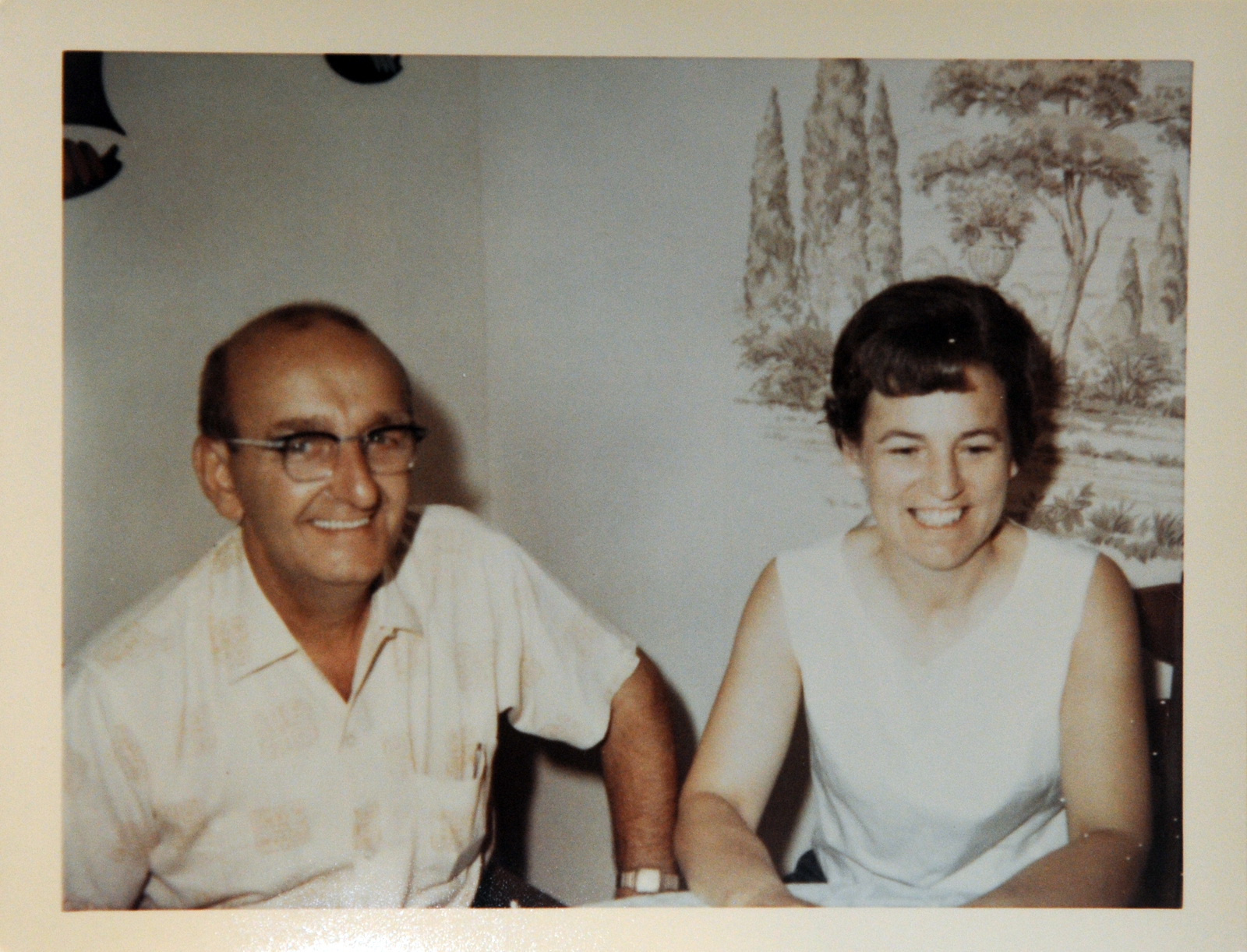 One of my favorite photos of my grandmother.
Homeward Bound
Learning to tilt the head so the crooked face isnt as bad….
Alien Fresh Jerky, Baker, CA
Alien Jerky and EVERY hot sauce imaginable…
Nothin' but ears...
Chicago Style New Year's
Tattoo design to honor my grandparents… (the first design)
Thanks for the Follow
Thank you for following. More of my journey can be found socially @awakenyourjoy. Be sure to subscribe to my YouTube Channel so you can watch my adventures!